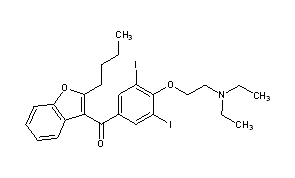 Amiodarone
CAS : 1951-25-3
(2-Butyl-3-benzofuranyl)[4-[2-(diethylamino)ethoxy]-3,5-diiodophenyl]methanone
2-butyl-3-benzofuranyl-4-[2-(diethylamino)ethoxy]-3,5-diiodophenyl ketone; 2-butyl-3-[3,5-diiodo-4-(b-diethylaminoethoxy)benzoyl]benzofuran
Molecular Formula: C25H29I2NO3
Molecular Weight: 645.31
Percent Composition: C 46.53%, H 4.53%, I 39.33%, N 2.17%, O 7.44%
In December 1985, amiodarone was approved by the FDA for the treatment of arrhythmias.
[6]
This makes amiodarone one of the few drugs approved by the FDA without rigorous randomized clinical trials.
A more recent synthesis of amiodarone reports the cyclisation of α-phenoxyhexanal 389 under acidic conditions to yield the substituted benzofuran390 (Scheme 76). A Friedel–Crafts acylation next introduces the aryl ring at the 3-position. Demethylation, iodination and a final alkylation with a diethylaminoethane fragment yields amiodarone [115-117].
115 Witczak, M.; Kwiecień, H. Synth. Commun. 2005, 35, 2223–2230.doi:10.1080/00397910500182747
Return to citation in text: [1]
Wang, Z. J. Synthetic Process for 2-Butyl-3-(hydroxy-3,5-diiodobenzoyl)-benzofuran. Chin. Patent 1,858,042, Nov 8, 2006……….116
Return to citation in text: [1]
Ha, H. R.; Stieger, B.; Grassi, G.; Altorfer, H. R.; Follath, F.Eur. J. Clin. Pharmacol. 2000, 55, 807–814.doi:10.1007/s002280050701….117