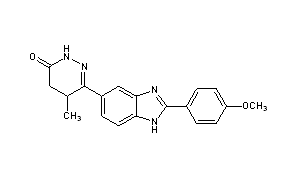 Pimobendan
CAS: 74150-27-9
3-[2-(4-methoxyphenyl)-3H-benzimidazol-5-yl]-4-methyl-4,5-dihydro-1H-pyridazin-6-one
4,5-Dihydro-6-[2-(4-methoxyphenyl)-1H-benzimidazol-5-yl]-5-methyl-3(2H)-pyridazinone
UD-CG 115; UD-CG 115 BS; 2-(4-methoxyphenyl)-5(6)-(5-methyl-3-oxo-4,5-dihydro-2H-6-pyridazinyl)benzimidazole
4,5-dihydro-6-(2-(4-methoxyphenyl)-1H-benzimidazole-5-yl)-5-methyl-3(2H)-pyridazinone
pimobendan
pimobendane
UD CG 115
UD-CG 115
UD-CG115
MF: C19H18N4O2
MW: 334.37
Percent Composition: C 68.25%, H 5.43%, N 16.76%, O 9.57%
Boehringer Ingelheim (Originator)
Derivative Type: Hydrochloride
CAS : 77469-98-8
MF: C19H18N4O2.HCl
MW: 370.83
Percent Composition: C 61.54%, H 5.16%, N 15.11%, O 8.63%, Cl 9.56%
Prop: Crystals from methanol and ethereal HCl, mp 311°(dec). LD50 orally in mice: ~600 mg/kg (Austel, 1982).
MP: mp 311°(dec)
Toxicity data: LD50 orally in mice: ~600 mg/kg (Austel, 1982)
Therap-Cat: Cardiotonic.
Mechanism of action
Pharmacokinetics
Combinations
Pimobendan is often used in combination with three other drugs to palliate dogs with heart disease and reduce clinical signs of disease. These are:
Furosemide, a diuretic, to reduce pulmonary edema. This can be given intravenously if the animal is in respiratory distress (6–8 mg/kg), and then titrated down to the minimum dose required orally.
Spironolactone, an aldosterone antagonist. This has two actions, firstly, as a potassium-sparing diuretic, although its diuretic properties are small compared with those of furosemide. Secondly, it reduces aldosterone-mediated myocardial remodelling and fibrosis, slowing the progression of heart disease.
An ACE inhibitor, often enalapril (trade name Enacard) or benazepril (Fortekor). These drugs inhibit the action of angiotensin-converting enzyme, producing a balanced vasodilation, along with other favourable effects.
Synthesis
References
Further reading
External links
References: Positive inotropic agent. Prepn: V. Austel et al., DE 2837161; eidem, US 4361563 (1980, 1982 both to Thomae).
Cardiovascular effects: J. C. A. von Meel, Arzneim.-Forsch. 35, 284 (1985); P. D. Verdouw et al., Eur. J. Pharmacol.126, 21 (1986). Comparison of enantiomer activity: K. Fujino et al., J. Pharmacol. Exp. Ther. 247, 519 (1988).
Clinical trial in congestive heart failure: F. Hagemeijer, Am. Heart J. 122, 517 (1991); S. D. Katz et al., ibid. 123, 95 (1992).